I CAUGHT A DOUBLE – and several firsts… (not the double… well not exactly) ***UPDATED-11/7/23***
I added a few things you all might (and might not) be interested in.  Look below for UPDATEs.
Original Post Below:
By
Bob La Londe
November 3, 2023
I was visiting with a friend yesterday (If you know me you know I currently only have four people I call friend, so you might be able to guess who), and they gave me a lot of fishing gear.  Rather they offered me a ton of fishing gear, and I accept a lot of it.  I was only a little bit greedy.  Out of all of it I could quickly put together several rigs and tie on baits.  I was literally given enough gear all at once by a friend that I could just take it and go fishing with lots of options…  I think that's a first.  #1
It was getting late, and I was headed home for dinner after having skipped lunch, but I wanted to catch a fish on some of my new gear.  Instead of grabbing lunch or dinner I stopped by the grocery store, grabbed a few beverages, and a crispy fried chicken breast.  Instead of continuing home I ate the chicken in the truck, and headed for the canal bank.  I tied on  LuckyCraft (Yeah, my friend offered me some expensive stuff) crank bait.  Well, to be clear, first I took a Bass Pro Shops Mega Cast reel out of the box, played with it to make sure it wasn't too dusty to cast, and stuck it on a Shimano Sojourn medium fast rod.  I don't think I've ever owned a BPS store brand reel before.  (First #2).  A long time ago I felt like I got burned by store brand reels from another store, and I've tended to shy away from store brand reels ever since.
The Shimano Rod is one I gave away back when I ran Yuma Pro Am.  I used to give away two rods at every tournament by random drawing.  I tried to give away something usable, but also that I could afford.  Most years I took the cost of the rods I gave away out of my pocket.  He won that rod at one of the tournaments I put on.  My friend had said he really liked that rod for crankbaits.  Back when he first told me that years ago I think I gave him that look like he had a third elbow growing out of his forehead.  Its kind of a general purpose rod in my opinion, but not my first choice for crankbaits.  It was on top, and I knew everything else I had picked in the stack.  There was a spinning rod I might have also considered, but the reel in the box I might have paired it up with had no line on it.  I guess I could have spooled line from one reel to another, but by that time I was really jonesing to get a bait in the water.
Anyway, I headed for the canal with my Luck Craft crankbait tied on.  I had mixed feelings about it really.  I have never caught a fish on a Lucky Craft bait before.  I've had a few including the Pointer, back when the Pointer jerk bait was what everybody was screaming praise from the roof tops.   On the other hand it really is a great looking bait, and it looked to be about the right depth runner for the places I planned to fish.
I set the hook on a rock a couple times trying to cast down current and fish eddies below a lock, but there were no fish.  Then after walking down stream to get my bait off a rock I made a cast upstream to fish down with the current and got smacked by a baby small mouth.  This fish was in full on kill mode.  He ate it deep and I struggled to get the back hook out his gill rakers.  I had to walk back to the truck for pliers.  I am pretty sure this is the very first (#3) fish I have caught on a Lucky Craft crankbait.  Also, this is the first time I ever fished a Lucky Craft in the canal.  (#4)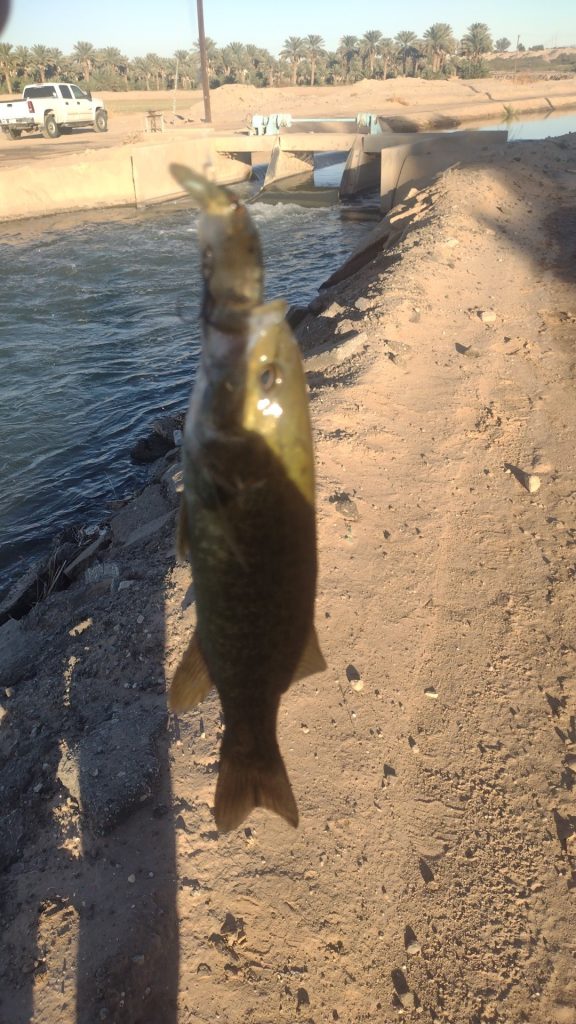 After releasing my catch and watching him swim away I walked up to where I could cast back down to a spot I've often seen and sometimes caught a decent fish.  Nothing.  A little later I made a few casts up current and got slammed by another baby smallie.  It was only a smidgeon bigger than the first one, but it was bigger.  Unfortunately, every time I tried to snap a picture he flipped around and gave me a blur.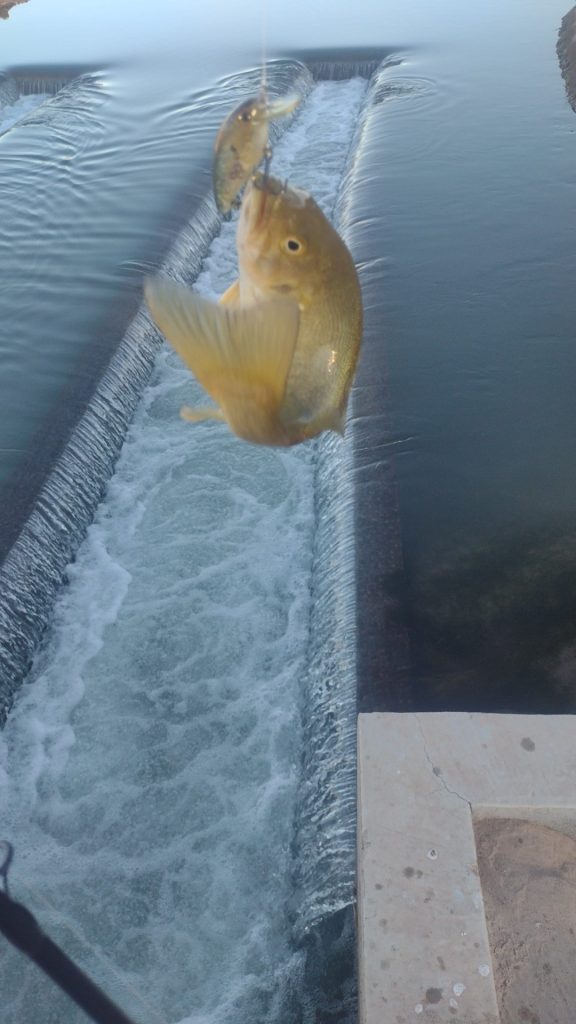 I figured it was more important to get the fish back in the water than to wait for him to tire out so I could get a better picture.
At my next spot, not to far up the way I started out casting up current, and I got smacked pretty quickly by a much larger small mouth right at my feet.  Just before I lifted the bait out of the water.  When I say bigger, it might have been 1-1/2 to 2 pounds.  Not a monster.  Sadly, I didn't connect.  That's certainly not a first.  I made a few more casts and decided to try something else.  Maybe, that smallie would hit a different bait.
I grabbed another rod, and another reel out of the box.  This time a Bass Pro Shops Tournament Special was mated to a Quarrow Green Country designed by OT Fears and given to my friend as part of his pro staff deal with Quarrow back in the day.  I've never owned a Quarrow rod before.  (#5)  I'm not sure I used this rod for its best application, but I tied on a Strike King lipless in an orange craw pattern.  I pretty much only throw one color Rattlin' Rapala and two colors of the Bille Lewis Original Rattle Trap when it comes to lipless cranks.  I've never even owned a Strike King (#6) lipless much less fished one (#7) before.
I burned the lipless across the area and structure where I thought that smallie might be hanging out.  Nothing.  Then I yoyo'ed it through a slightly deeper hole in the middle of that area.  Nothing… or so I thought.  When I swung the rod out of the water I had to do a double take because I had a double take.  One on the front hook and one on the back hook.
I've caught doubles before, so that's not a first.  Not all the time, but often enough.  When I was a kid sometimes we would catch trout on double bait rigs two at a time.  Most of the time one would fall off as we were swinging them out of the water, but it happened.  My first "true double" was in Lil' Senators right here on the Colorado River.  Two fish on one bait.  I caught a 2-1/2 and a 3-1/2 largemouth on a crank bait.  That was a long time ago now.  Maybe twenty years.  If I can find the photo I'll add it to this write up.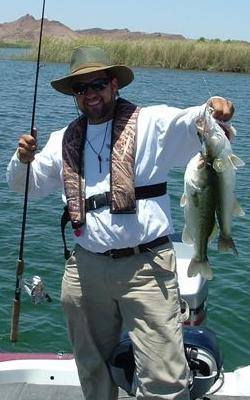 A little time later I stuck a small striper and fairly decent striper on a topwater popper.
UPDATE:  There is a good story about this one, but I've told it more than once or twice already.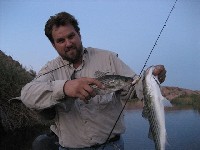 In years since I've doubled up a few times including one evening in Island lake when I had several doubles along side the boat on a crankbait, and I managed to land a few of them.
My buddy Will one afternoon doubled on topwater while fishing with me as well.  In fact he was giving me a clinic on how to smoke your boater with his Rio Rico when it happened.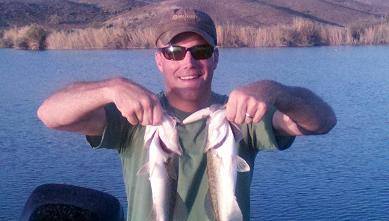 Doubles are not common, but they may not be quite as rare as some people think either.
Anyway, this was a different species.  I have caught this species before in the canal on hook and line, but not often.  Never a double before.  (#8)  I tried to hype it up by texting a buddy of mine, but he didn't believe me.  He stopped short of calling me a liar, but he came right out and said he didn't believe me.  He tried to play silly games by saying If it was trued I would have already sent the picture bragging, and later he texted that if it was true I'd write about it and post the picture on my blog.  I decided I'm not going to post the picture on my blog, and I'm not going to share the picture with anybody who doesn't specifically ask to see it.  If you have my cell phone number or my email address feel free to send me a message asking to see the picture of last nights double on the canal bank.
UPDATE:  Okay, its been long enough the guy who refused to play along probably won't read this post again.  Two "fish" on one bait.  A "true-double"on a lipless crankbait.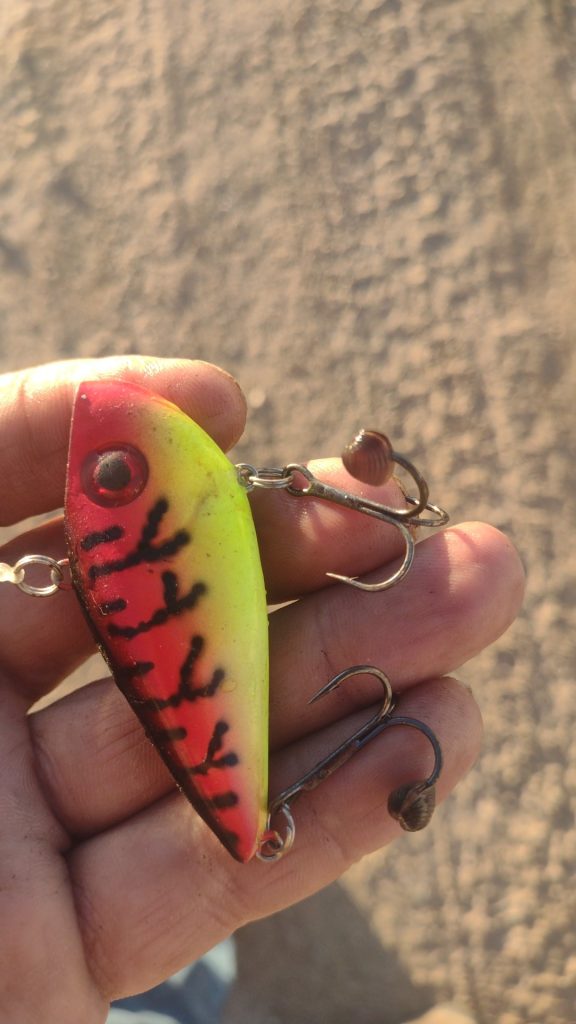 Unfortunately, that was my last catch of the afternoon/evening.  I tried a Rio Rico popper and a TD Minnow jerk bait, but never felt another strike or saw another follower.  I finally headed in at that time when its getting noticeably dark, but its no0t quite dark yet.  Over all I am not unhappy with my outing.  I've never really smoked them in winter on the canal bank, and this stretch of canal sees a lot of pressure.  I still managed to catch a few.