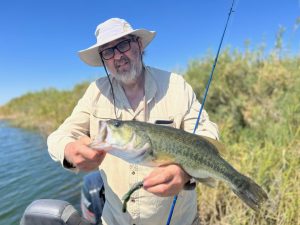 I'm just another weekend angler like millions of others. When I started getting serious about being a sporty/hobby/tournament angler I looked for resources on-line. I found a lot of it was either bastardized to sell you product, or it was carefully crafted in double speak to hide the fact they weren't telling you the key elements.
"We just put in the work, fished hard, and trash fished all day." What?! What the heck does that mean? It means they just won a tournament and they ain't gonna share squat.
Am I different. Well, yes and no. I started Yuma Bass Man a long time ago as a blog type website. I posted fish stories and shared things that actually worked. Sadly I ran out of my own stories to tell pretty quickly. My hope was that by sharing what I knew some people would share back. Later on I added a forum and for a long time it was a local success. It even had some national and international support for a while. I was positive, tried to be altruistic, shared freely, and gave away free stuff. After a while I started a Pro Am (draw team) tournament series. I ran that for 8 years. There were a few community members who shared, but they often soured for some of the same reasons I soured on it. "Gimmee! Gimmee! Gimmee!" people. In the end I gave up on the Pro Am due to assholes. I gave up on the forums for the same reason. There were actually people on the forums who seemed like they only joined to use my own platform to attack me. Eventually I would booth them off, but that also made others afraid to share their own opinions. The "free" products weren't really a good idea in the end either. I had people come right out and say they were only there for the free stuff. "Gimmee! Gimmee! Gimmee!" Often free stuff wound up being a huge pain. Like a guy who was sent his stuff three times (I have proof) who basically called me a cheat and a criminal, and finally I sent him a big fishing store gift certificate, and he claimed that was shitty too. In the end an open platform just didn't work for me. I pretty much quit fishing tournaments and eventually quit operating an open forum.
I still want to write and share, but now its back to the kind of platform it used to be. It will be better in some regards. 20+ years later I know a lot more than I did back then. Ihave more to share. Its not all about fishing, but either related to the outdoors or supplemental to outdoor things. For example machining may not be about the outdoors on the surface of it, but I manufacture molds for fishing lures. Installing a bumper on a Jeep is shop project, but that new bumper gives me a place to mount a winch so I have a chance of pulling myself out when I get stuck in the outdoors. I'll try to be positive. I may not be as altruistic as I once was. I have been burned a few times. Like the "friend who said, "I don't want you to think I only come around when I need something," and I suddenly realized they do only come around when tey need something… I guess they just I wouldn't think that. Might not have been such a good idea as to say that. LOL. I'll try to share some real knowledge and information, but some of it will likely sound like an infomercial. I want people to buy my molds after all. I'll try not to bend my words to badly just to be another shill, even if its for my own products. I might even give away some free products.
This isn't totally closed however. There is a space to leave a comment at the bottom of the posts, and you are welcome to leave a comment. If you have read this far you might understand why they will be moderated. If its mostly positive, not an attack on anybody, not a shill or spam, and its on topic it will appear as soon as I have a chance to review them. Of course if you try to continue old feuds and old arguments your comments will never see daylight. I do get a lot of spam comments already. In just the first day I've probably deleted 25 of them from spammers trying to spam the website with hostile links to hostile websites. Of course those never get approved. The only one who is exposed to that is me.
I hope you come back often, and I hope you post a fun and interesting comment.
Hits: 14