Short Long Tail – (updated Sep-8-23)
You probably haven't heard much about the Valco 14 footer I picked up a while back. That's because I haven't done much with it. We got it off the flat bed trailer and flipped it upside down in front of the house. That's where it's set for the last couple years.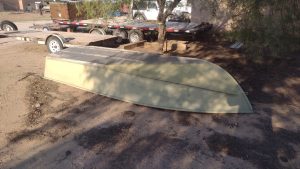 It may be a while before I do much more with it, but I just ordered a Mudskipper XL 18 to 23 horse kit to go on it. Mudskipper has a nice two into one exhaust for the Predator 670, so I tag that on to my order.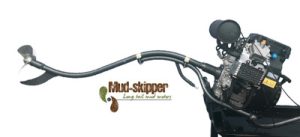 The plan is eventually to assemble the kit with the Harbor Freight predator 670 motor, and see what it does. I was holding out for a jet drive, but I just wasn't finding anything that I really felt warm and fuzzy about. I figure a short long tail surface drive is a close second. Besides, if I spend real money on an outboard I want a 60HP for Whisker Seeker.
It's going to be a little while before it hits the water. I still need to buy the motor, and I only want to use what I call pocket money. When I save up enough little extra bits of cash that I can just pay for it without dipping into savings or anything like that. Eventually if the whole thing works out it will probably become my lower river runner. The Valco may be a little heavy for it, but if it is I may be able to swap it for a flat bottom jon boat instead of a semi flat vee boat.
UPDATE (September 8th 2023)
1. Mud Skipper appears to be part of or related to Caswell Plating.  Caswell plating sells chemicals, colorants, and equipment related to coating, electro plating, & anodizing.  Some of the shipping and order processing information is labeled as such.
2. They seem to process orders fairly quickly.  I received an update early this morning with tracking information.  I placed the order yesterday fairly late.  Only a few minutes prior to posting about it.
Hits: 24